The worship ministry at First Naples strives to create an environment that is comfortable for you to worship in, no matter the season or walk of life. Our Staff & Worship Teams work together to lead our church family in unique weekend services that are dynamic, engaging, Christ-honoring, Gospel-driven and spiritually up-lifting.
Style
Whether you worship in one of our band-led services or our Choir + Orchestra service, you'll be led by people just like you that love the Lord and take delight in offering their gifts & abilities to the Lord as a sacrifice of praise!
Getting Involved
Worship ministry is always open to involve more volunteers gifted in music to assist in worshipping the Lord in spirit and truth. From singing and playing instruments to acting and special productions, you will find great opportunities to use your gifts and talents to serve the Lord. Our worship teams at First Naples are comprised of church members with talents in music that desire to praise Him with integrity and humility. If you have any interest in serving click the button below to send us an email and we'll be back in touch with more details.
Naples Christmas Celebration
Save the Date
December 8-10
"Let the nations be glad and sing for joy, for you judge the peoples with equity and guide the nations upon earth." – Psalm 67:4
Christmas is coming soon! We are so excited to see what God is going to do through our Naples Christmas Celebration and we hope you will make plans to celebrate Jesus' coming with us!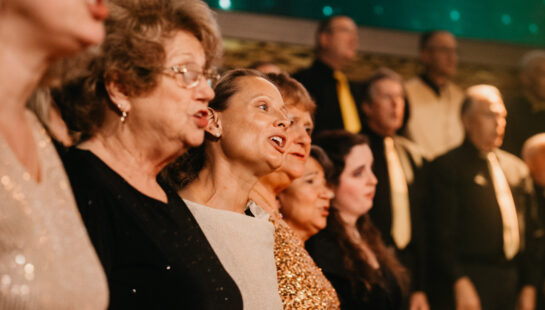 2023 NCC Adult & Student Choir Kickoff
Sunday, October 1, 4:30-7 PM
In the Choir Room; a light dinner will be provided.
No matter your age – young or seasoned with grace – we want to see Jesus lifted high this season, and you can be a part of that vision! Please join us in lifting up the name of Jesus in this season – He is the ultimate reason it exists!
If you would like to participate in the Naples Christmas Celebration 2023 Choirs, please register below. If you are a seasonal resident and need us to mail you a CD and music binder, please let us know that as well.
Questions? Contact Beth Marks, bmarks@fbcn.org, or call (239) 596-8600 x229.
School of Worship Arts
The First Naples School of Worship Arts exists to develop Christ-honoring worshipers through quality instruction for the purpose of exalting the Lord with their God-given talents and abilities. For adults and children ages 4+, we offer private and group lessons on the church campus with experienced musicians who are devoted to giving their talents to the Lord.
Lessons
Private lessons are offered in the following areas: Voice, Piano, Guitar, Violin/Viola, Drums, French Horn, Saxophone, Flute, Trumpet, and Baritone Horn. Private Lessons are offered once a week for 30 or 60 minutes.
Lessons are scheduled Monday through Friday, from 9:00 am to 6:00 pm. They begin no earlier than 9:00 am and must conclude by 6:00 pm.
Fall 2023 (August 14 - November 17)
30 minute lessons: $504 (or 4 monthly payments of $126)
60 minute lessons: $840 (or 4 monthly payments of $210)
No Lessons Sept. 4 (Labor Day) and Nov. 20-24 (Thanksgiving Week)
Make up lessons: Nov 27-Dec 1
Monthly payments are due on the following dates: August 14 (before first lesson), September 1, October 1, November 1. Student Instructor Discount is 25%. If tuition is paid in full by August 14, you will receive $28 off the tuition price.
Students must register online.
You may register at any point during the semester, assuming there are still openings available.
Tuition for private lessons will be invoiced to you on a monthly basis; however, you may pay in full at any time.
Once registration is complete, the School Office will match you with an instructor and lesson time. Students are assigned to instructors and classes based on paid registration date, new or returning students, instrument level, time preference, instructor availability, etc.
You will receive a Welcome letter via email with your assigned instructor, lesson time and payment information.
The School does not provide instruments or curriculum. Each student will need to provide his/her own instrument and other accessories as required by the instructor. A piano or keyboard will be in each studio room. The instructor will inform parents and students of any needed curriculum, including music, method books and theory books, and those will need to be purchased by the students.
Please be prompt so that instructors can begin and end each lesson on time. Instructors are not required to extend the lesson if a student arrives late. If an instructor is late, the lesson time will be extended and other students informed of a later start time to accommodate.
Lessons will not be made up if they are missed or denied due to late or outstanding payment. Students are responsible for paying for all lessons in the semester, regardless of attendance.
Make-up lessons will be granted for excused absences. Excused absences are lessons cancelled with a 24 hour notice to the instructor and/or school office. Instructors are not required to make up unexcused absences. However, grace may be granted at the instructor's discretion. Please note that lessons will not carry over into the next semester. If a student's excused absence is not made up during the make-up week provided, then the lesson is forfeited.
A lesson that falls on a holiday or during a church campus closure will be scheduled during the make-up week at the end of the semester.
If a student's schedule changes during the semester and their lesson time no longer works, permanent rescheduling is subject to the instructor's availability and may not be able to be accommodated.
If a student no longer wants to continue lessons, they are required to notify the School Office. Refunds will be given on a prorated basis.
If an instructor needs to be absent or cancel a lesson due to illness, extreme emergency or death in the family, that lesson will be made up within the same semester or refunded at the School Office's discretion.
Click below to download our full Student Policies and Procedures.
Lessons will be given on the First Naples campus in the following rooms: Choir Room (WC129), the Worship Ministry Conference Room (WC138), and the Worship Ministry administration offices, AD114 and AD116.  Each room will have a parent waiting area nearby. A campus map and directions to your room will be provided in your Welcome letter.
All lessons will take place on the church campus.  Rooms have windows and video surveillance for the protection of all parties. In addition, background checks are acquired for all instructors prior to their hire. Click below to download our full Student Policies and Procedures.