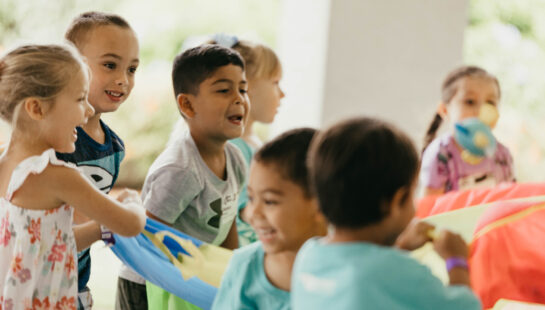 LAUNCH
At First Naples VBS "LAUNCH", kids will have a blast with space themed activities, games, large group Bible teaching, and faith- based programming that is out of this world! The week will focus on launching kids in faith and in mission for Christ!
June 5-9
9:00am – 12:15pm
Serve at Vacation Bible School
Serve with us and help lead and train our kids to know Christ and live on mission! All volunteers must be in 6th grade or older. All Teens that are in 6th grade through 15 years old need to be a regular attender of First Naples. Teens that are 16 years of age or older must be a member of First Naples. All volunteers will need to complete a volunteer application and background check if haven't already done so. Click below to sign up to volunteer!
Frequently Asked Questions
What grade do I register my child for?
Please register them for the school grade they are currently in (2022-2023), not the grade they will attend next school year.
My child is 4 years old, can they attend?
VBS is open to kids ages 4 years old by Sept. 1st, 2023.
If  your child does not meet that deadline, we look forward to having them join in the fun next year!
We have other commitments June 5-9. Can my child still participate in some of the days?
Absolutely! We would love for every kid to be able to attend every day, but we know that isn't always the case.
You can register your child normally. Just let their classroom teacher know if they will not be attending the next day.
My friend/family member are helping me with transportation. Are they allowed to pick up/drop off my child?
Yes, friends and family are able to pick up your child from their classroom if they have the security tag that is printed at check in. A picture on your phone of the security tag will also be accepted.
In order to drop off your child, they will need to be registered in our system with permission to check in your child.
Parents will receive two tags per child plus one pick up tag per family. Your child will wear a name tag and the tag labeled "teacher copy" will be given to your child's teacher. The family security tag will be used for pick-up. When you are ready to pick up your child, present the security tag to your child's teacher.
My child has food allergies. What snacks are being provided?
We will have a variety of individually packaged snacks throughout the week. Food allergies should be noted in the registration process. We are able to provide gluten-free + nut-free snack options.
How do I purchase a shirt for my child?
All you need to do is register! T-Shirts are included in the $10 registration cost.
Why is there a $10 cost this year?
The $10 cost of registration includes a T-Shirt for your child. This also helps us better prepare and track registrations so that we can provide an incredible experience for all the kids and families involved in VBS this year.